The Summit

™

Air Purifier Eliminate Bacteria and Germs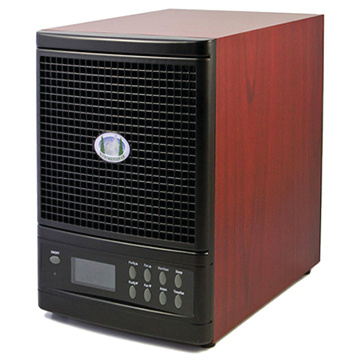 Arrives With All Seven Stages of Purification

True HEPA

Ozone

Photo-Catalytic (TiO

2

)

Ionization

Ultra-Violet

Dust/Debris Pre-Filter

Carbon Filtration
Sterilizes & Disinfects the Air You Breathe With HEPA, UV & Ionic Technologies
Sterilizes & Disinfects the Air You Breathe!
Sterilizes & Disinfects the Air!
The Best Antimicrobial Air Purifier

The Summit


Use the same sanitizing technology found in hospitals to stop viruses and bacteria dead in their tracks with the Summit air purifier! Featuring advanced seven (7) stage filtration,

The Summit efficiently filters airborne pathogens from the air while utilizing Ultra-Violet (UV) and Ion technology to kill germs year-round.

In fact, Germicidal air purifiers have been effectively utilized by medical professionals for years to prevent the spread of diseases and sickness. Now that same hospital-grade protection is available for your home or office. By disinfecting the air you breathe, the Summit can keep your home safe from the spread of sickness (cold, flu, hay fever, etc...) in up to 3,500 square feet of your home. Additionally, each air cleaner can be set to run while you are gone, ensuring the air in your home is fresh and clean upon your return. So get the Summit air purifier today to reduce your exposure airborne to sickness while making the air in your home Rocky Mountain Pure!
Summit Product Specifications
Specifications
Filtration: Seven Stage
•
Controls: Remote & Manual
Shipping Weight:

17

lbs
•
Coverage: 3,500 Sq. Ft.
Electrical Cord: 14 Gauge, 110v, 3-Prong
•
Clock: Digital
Dimensions:

9

W x

12

H x

12

D in.
•
Fan: Quiet 5-Speed
Timer: Digital Function
•
Frequently Asked Questions
FAQ's
Compare Our Air Purifiers
Compare Air Purifiers
Watch Our Videos
Watch Our Videos
The Seven Stages Of Filtration
7-Stage Filtration
Seven Stages Of Purification: Ionic Particle Filtration
Air purifiers by Rocky Mountain Air

®

play a big role in stopping the spread of viruses and infections by removing contaminants from the air with ionic particle filtration. By utilizing negatively charged ions (Anions), our ionic filters cause airborne particles to become too heavy to circulate through the air when these particles bond with Anions. As a result, the bonded particles become trapped in the ionic filter which drastically reduces the spread of viruses, bacteria, and other allergens. In fact, hospitals routinely use ionic particle filtration to provide a safer environment for their patients.