OUR BEST MODEL

!The Summit PLUS

™

SmokeEater Air Purifier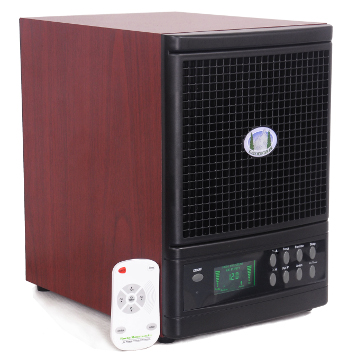 Arrives With All Seven Stages of Purification

True HEPA

Ozone

Photo-Catalytic (TiO

2

)

Ionization

Ultra-Violet

Dust/Debris Pre-Filter

Carbon Filtration
Home & Commercial Smoke Eater Air Cleaning System
Home & Commercial Smoke Eater Air Cleaning System
Smoke Eater Air Cleaning System
The Definitive Anti-Smoke Purifier

The Summit


Remove lingering cigar and cigarette odors with our newest smoke eater. With seven stages of

ADVANCED

purification, the Summit PLUS tackles even the heaviest smoke.

To beak down smoke particles at the molecular level, our ozone purification stage can be activated to emit trace amounts of activated oxygen that completely eliminates the smoke particulates it comes in contact with. Utilizing the unit's Purify feature, simply activate the ozone stage before you leave your home and/or office and enjoy fresh and clear air upon your return. While the ozone feature eliminates smoke, the other six stages work in concert to transform the air you breathe through UV sterilization, absorption of smells and toxins, and removal of 99.9% of airborne contaminants. The result is clean and fresh smelling air that few other air purification systems can deliver. No longer will you need to worry about cigar or cigarette smoke that can be left behind long after the smoking has stopped.

Our air purifier removes such stenches, while even pulling smoke odor out of carpet and upholstery.

What remains is an odor-free home that you will surely enjoy. We are so confident that you will thoroughly enjoy your air purifer that we even offer a 60-day money back guarantee to ensure that you are 100% satisfied with your new smoke eater.
Summit Product Specifications
Specifications
Filtration: Seven Stage
•
Controls: Remote & Manual
Shipping Weight:

17

lbs
•
Coverage: 3,500 Sq. Ft.
Electrical Cord: 14 Gauge, 110v, 3-Prong
•
Clock: Digital
Dimensions:

9

W x

12

H x

12

D in.
•
Fan: Quiet 5-Speed
Timer: Digital Function
Frequently Asked Questions
FAQ's
Compare Our Air Purifiers
Compare Air Purifiers
Watch Our Videos
Watch Our Videos
The Seven Stages Of Filtration
7-Stage Filtration
Seven Stages Of Purification: Activated Oxygen
Unpleasant odors can be among the toughest elements to remove from the air you breathe. To combat such airborne pollutants, the Summit air purifier utilizes Activated Oxygen (03) to breakdown particulates (such as smoke, household chemicals, and perfumes) at the molecular level. Lingering airborne contaminants oxidize away when coming in contact with the trace amounts of ozone dispersed throughout your home leaving pure oxygen (02) in its place. Such fast acting, deep cleaning power is ideal for smokers looking to bring Rocky Mountain freshness to their home. There is simply no substitute for the Summit. In fact, the Summit's Ozone feature can be safely toggled on and off, giving you the option to use the unit's full cleaning power only when you need it most!